When the Frogs Have Croaked Three Times...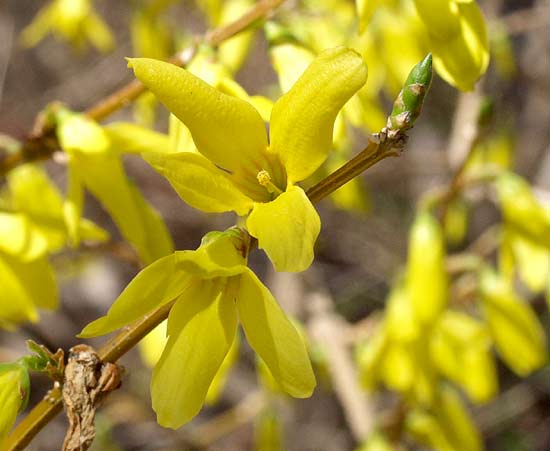 "While in the water they sometimes formed one circle and sometimes many circles, and while in the water they used to play cymbals and imitate the croaking of frogs..."
Madhya 14.77
The frogs in the silted in stock pond down below our house have been croaking the last few days. They came out of the mud the first time in the middle of March during a brief warmup, but then the temperature dropped and has been pegged at about 10 degrees (6 deg C) below normal until recently so they went silent. So this is the second time they are croaking. According to the oldtimers, when the frogs have croaked three times, spring will have arrived. Which is about right, as we will probably get another bit of weather cold enough to quiet them up before winter finally concedes.
The forsythia showed color the first time they sang, even some odd blooms, then went into like a freeze frame until this warmup where they are bursting into full bloom. The early daffodils are blooming as well, and life is stirring all around.
Normally I would be hauling compost into my garden with my truck, and finishing up replenishing the woodpile so next winter's fuel would be fully cured by the time it will be needed. Not this year-- in fact, I just donated the truck to ISCOWP, the Krsna centered cow protection program that is located a mile out the private lane that passes through my land. It needs a bit of maintenance to get it into good operating condition. Since I don't have the money to do so, can't really use it anyway, and the cost of keeping it insured is not going to be recovered operating it, it was only my sentimental attachment that was lobbying to keep it. It is so bound up with my previous personna that giving it up is both literally and symbolically closing a chapter in my life.
Plus, since my wife has been pushing to get more of the garage space to use for her gourd business, all the stars were lined up against me.
:-)